Mens Slippers
MULO x Hamilton and Hare. Brands with shared passion for elevated basics, considered travelwear and smart loungewear. This collaboration combines our classic slipper silhouette with Hamilton and Hare's soft, natural fabrics. 
To share details of the collection, we sat down with Hamilton and Hare's Founder and CEO, Olivia Francis, for a short Q&A.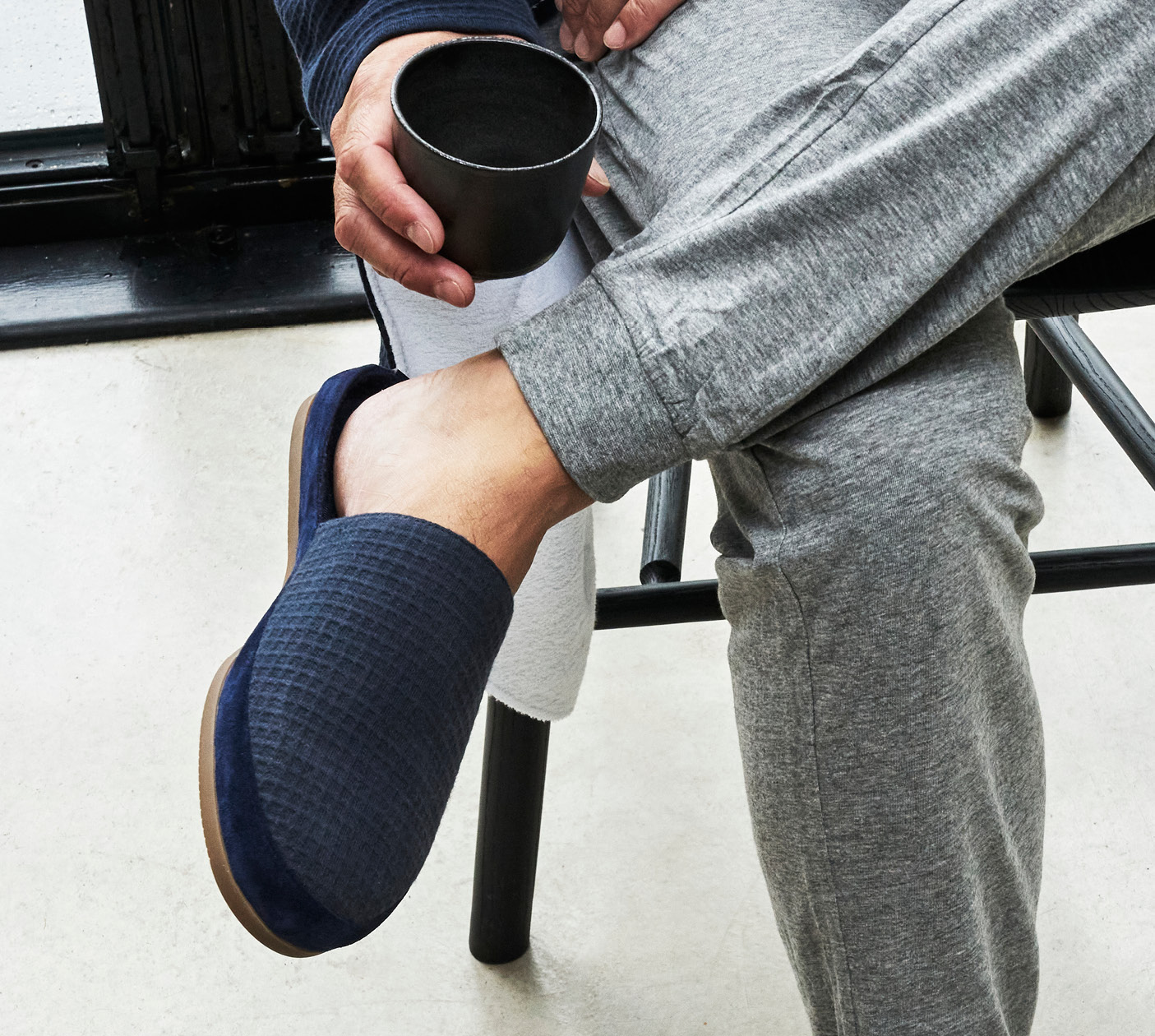 At a time when designer collaborations are becoming increasingly commonplace, why was this one important to do, and why with us?
Most slippers are ugly and a lot of that comes down to the silhouette. MULO's approach combines a sleek, modern shape and we thought that would work well with our signature fabrics and we're delighted with the result.
Why slippers?
Slippers don't get much attention. Like underwear they are often overlooked but they form an important part of the at-home wardrobe. Especially now, men are spending more and more time at home so we think a great pair of slippers are a good investment.
Fabrication is at the core of your ambition to deliver ultimate comfort. Can you describe the fabrics used in the collaboration slippers?
All our products start with the fabrics and how they feel on the skin. We use natural fabrics sourced from sustainable mills in Europe. Our waffle fabric is a weighty, textured weave made from 100% cotton jersey, we also use this for our signature towel-lined robe. Our microstripe blue stripe jersey is not a rigid stripe, more of an organic softer design that gives a lovely textural effect. Our Terry is another signature fabric that we use for sweats, it's 100% cotton, fine loop and is breathable and very absorbent too making a great liner for the slipper to keep your feet from overheating.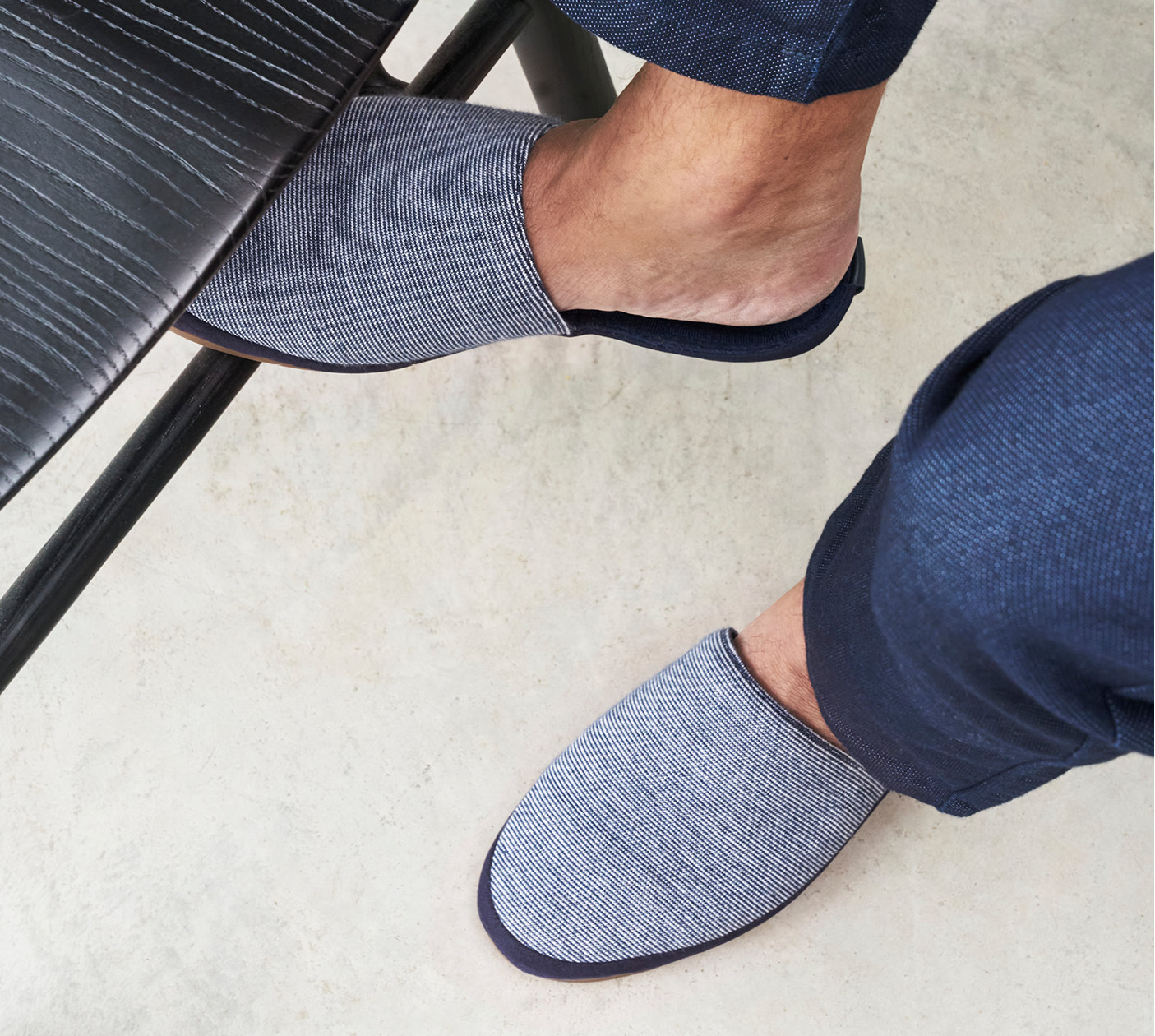 How and where are the fabrics produced?
We work very closely with small scale producers and mills in Portugal focused around an area in the North called Guimarães. They are mainly family run businesses with excellent knowledge and expertise and the staff are very proud of what they do. The focus is very much on quality not quantity.
Sustainability is a term bandied about, often with very little connection to the original definition.  How does it apply to the collaboration?
For us sustainability means trying to do things the right way, this starts with making an excellent product that won't end up in landfill after a few wears. This is very much the intention behind this collaboration and working with MULO as a like-minded British brand. We also make our products in neighbouring villages in Portugal so the footprint is kept to a minimum which is a very nice synergy.
Our focus is on using natural materials, avoiding plastics and anything derived from petrochemicals to avoid contributing to fossil fuel demand. Our fabric suppliers subscribe to the 'Better Cotton Initiative' which ensures sustainable practices throughout the entire supply chain for example farmer training programmes and better working conditions.
Any styling tips?
The waffle version looks great with our matching towel-lined robe. The rubber sole means you can take the bins out, pick up the post and the backless design makes them effortless to slide on and off too. They look great with sweats or more classic pyjamas too.