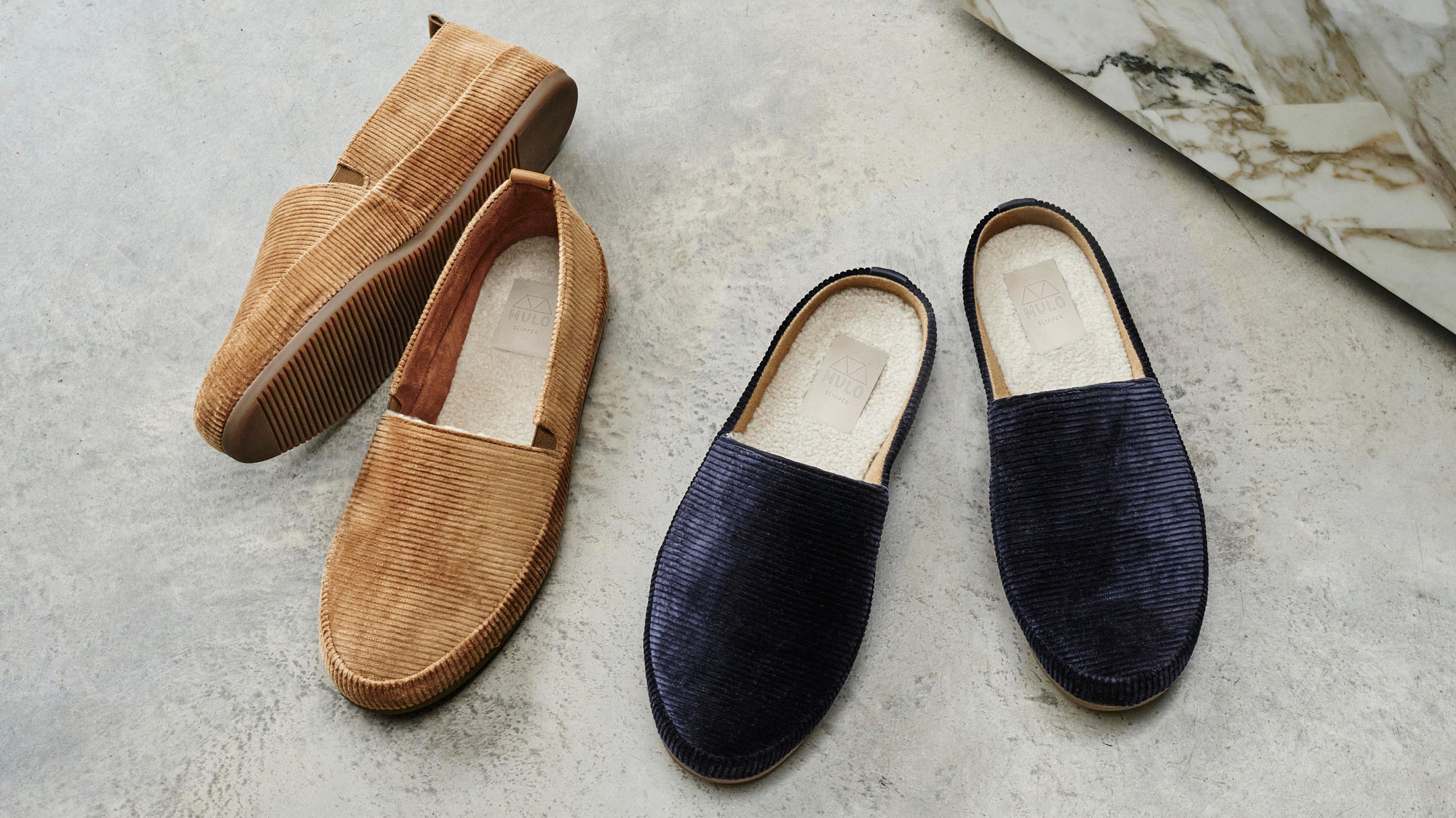 It's so comfortingly familiar. The warmth and feel, the tradition.
As summer eases into autumn our thoughts turn as readily as the leaves, to the expectation of what lies ahead. Banishing any heat and hubbub for the glow of rosy-cheeked walks and the embrace of cosy trysts by the fire. The tricks and treats of days and nights of festive cheer. And for the modern connoisseur of stylish footwear that must mean the elegant indulgence of the slipper.
Because MULO slippers are a masterful re-interpretation of a classic.
Forget any images of tired textile and rigid rubber. This is a wardrobe essential honed with Italian leathers, suede and corduroy, perfectly pitched to pad about home in. Its laidback luxury lined with soft moleskin and finished with natural shearling to comfort and cajole tired feet. Simply put, a sophisticated and fitting holiday gift for him.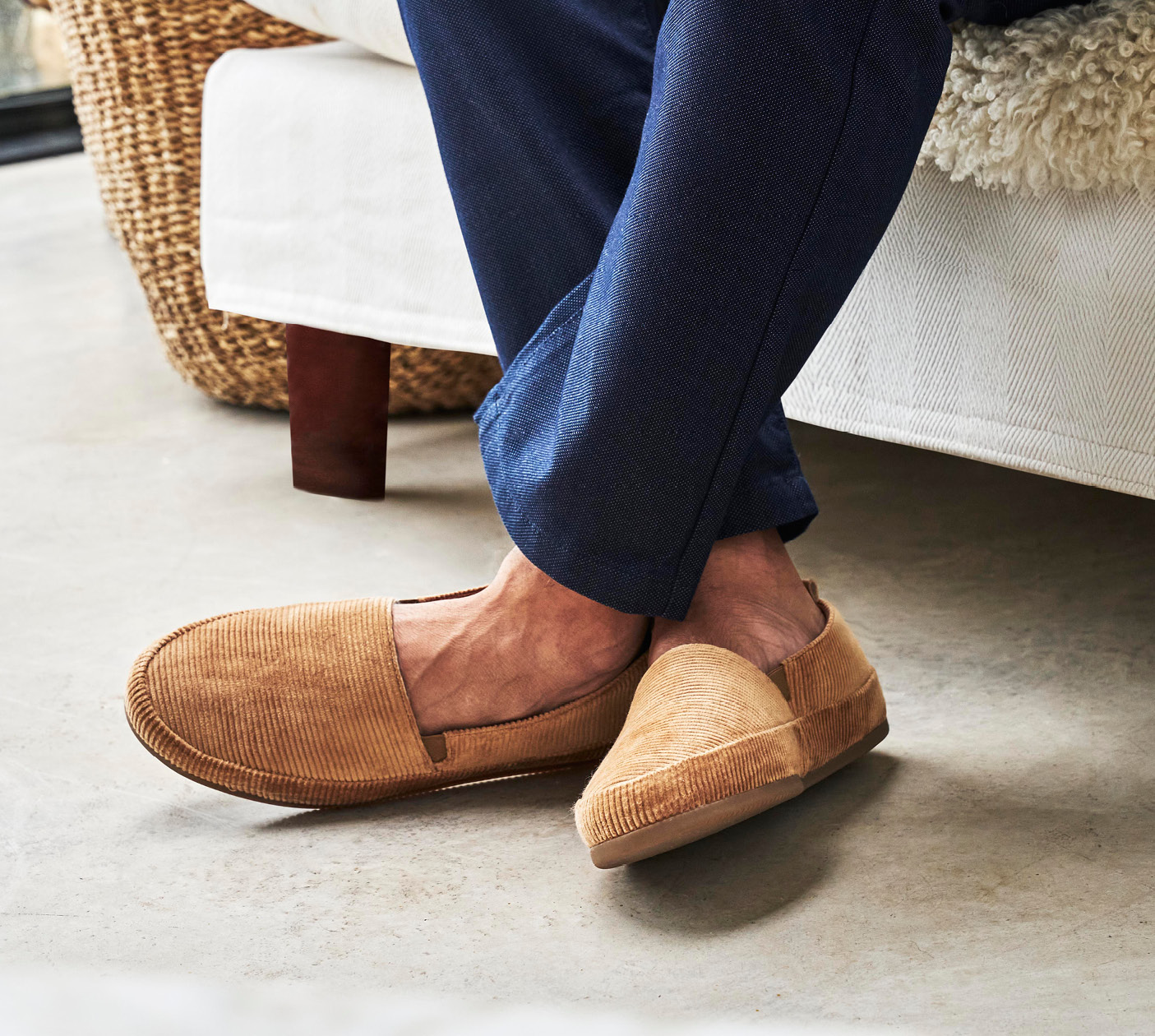 Let's face it, for too long men have overlooked the joys of the house shoe. They're happy to pair up as partners in crime with an Oxford at the office, a brogue on the town but in the confines of their own castle those style rules get broken. All too often you hear the clip clop of flip flops, the squeak of a sneaker. What they need is a sleek mens slipper that's inviting and individual, durable and dutiful.
Because why should he trade in his daytime dash for anything less stylish in the comfort of his own home? After long days at work, it should be his right to slip into something more comfortable. To create a look of casual chic that matches his surroundings. Aspiring to a grown-up look behind doors that matches his public persona – while also supporting and giving in all the right places.
That's where MULO's mens slippers comes up trumps. It will become indispensable. As much a part of his day-to-day regime as the early morning flick through his updates, the perfected grooming routine or the well-worn trip to the fridge for a cold one. It will be a soulmate of a shoe to slip on in times of comfort and joy. Carefully designed to be at one with him and his needs through dark and frosty winter nights.
As evidenced by the modern silhouette fashioned on a traditional Oxford last. Lovingly hand-crafted in time-honoured tradition by shoemakers whose life and soul has been devoted to producing some of the finest shoes in the business. Every step of the way keeping a watchful eye on the details.
Because the finest materials have been brought together to make sure that each time he slips on these mens slippers it will be a joy. Expertly lined with luxurious moleskin, the brushing technique creating a soft pile that ensures those feet are wrapped in warmth. And an insole made from shearling wool, the softest, finest part of the shearing process – like stepping on to a cloud – and boasting hollow fibres to help his feet and the material breathe naturally.
So, just imagine then, the upgraded staple, making him contemporary yet casual. The bottle of beer cradled in the hand, cooking up a signature storm in the kitchen or just plain loafing, the sofa beckoning. Those slippers a practical yet stylish addition to his wardrobe, helping him to stay warm and look sharp this winter. At ease. His home life now sartorially complete.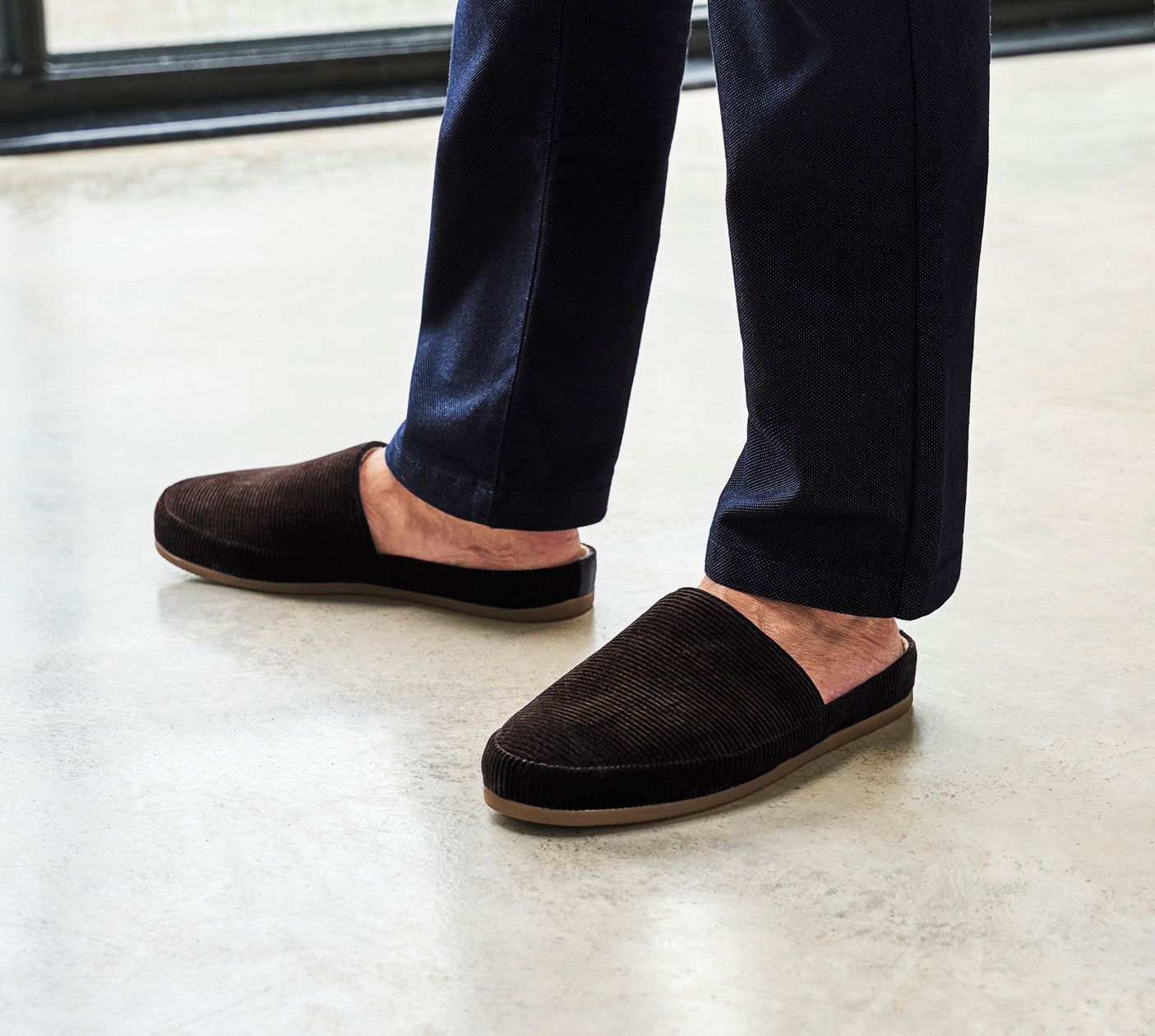 There for him at rest and play. Then, ready and waiting by his bedside on a Saturday morning as he opens his eyes to a world of weekend activities. Accompanying him to the stove to brew up a cuppa, then pondering the day ahead. Building up to that amble down to the corner shop to buy a wedge of weighty newspaper supplements.
And just when you think the perfect partnership need be separated, think again. MULO mens slippers are way too comfortable and stylish to be cast aside. Those gripped rubber soles are there for a reason. They have traction and they travel. They're ready to be shown off to the world. You see, the added allure of these slippers is that it's capable of much, much more.
They look just as neat and nimble partnered with a pair of sweats as they do with the most trusty, well-worn jeans. Their classic colourways capable of blending with the widest array of outfits and colour combinations. Just as able to drift effortlessly along the street to pick up that pint of milk as they are to nip in to the office for a relaxed meeting.
So adaptable and agile in fact that there's no need to limit them solely to the pavement. They're just the ticket when he gets set to jet off for adventure or business. As integral to the check-list for a long-haul flight as his passport. And guaranteed to draw envious glances from anyone donning flight socks or rummaging in their bag for a slip-on sandal.
You see this is a mens slipper that's versatile and variable. Footwear that's fit for anywhere.
It is the perfect Christmas gift. And definitely an investment he'll thank you for.